Client: Air Separation Plant – Delaware
Problem: Client experienced fire damage on industrial wood cooling tower which was critical to its operation. Owner needed to determine full extent of the damage, and obtain a cost proposal and time frame for making the necessary repairs. Reducing downtime was a major consideration for all contractors who chose to bid on this work. Ability to sufficiently man the project in a timely fashion was to be a determining factor in awarding the work.
Our Solution: The Calvitti Company made an immediate and thorough inspection of the unit to assess the damage. Recommendations for repairs were proposed along with the costs associated with them, and a projection for completion of the work – all within 24 hours of the inspection. Using materials from stock and timely deliveries from certified cooling tower vendor sources, our company was not only able to complete the work ahead of schedule, but also do so within budget to the total satisfaction of the customer.
---
Client: Specialty Alloys Manufacture – Reading, PA
Problem: The Calvitti Company was approached by a client needing repairs performed on a seriously deteriorated two cell cooling tower. On first inspection, it was clear that both cells were damaged beyond simple repair. To properly address the repair Calvitti Company would need to replace the blower fans, drive shafts (with associated bearings) as well as the complete fan housings and fan snouts. The client had not addressed this problem previously since the unit was in continuous operation and shutting it down would require rental of a temporary cooling tower unit at great expense and trouble.

Our Solution:
We suggested to the client that the hot water valve to one cell be blocked off to interrupt flow to that cell without taking the second cell out of operation. This would allow us to make repairs to the cooling tower one cell at a time without ever totally shutting down the tower. The client agreed, and was delighted with the proposed solution.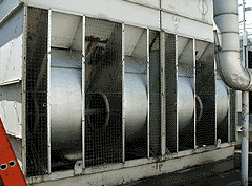 To further complicate things, upon dismantling the first cell it was discovered that the sloping wall that would be supporting the replacement components was rotted. To further save the client time and money we fabricated and installed galvanized sheet metal to replace only the deteriorated sections, allowing for proper installation of the components without the need to completely replace the wall. Calvitti Company was successful in completing the repairs in a timely and cost effective manner to the client's total satisfaction.